Uniform
Uniform – Our new school uniform is statutory from September 2022
Winter (Worn from September through to Easter)
Plain White Shirt with School Tie, School Jumper with School Logo, Tailored Grey Trousers , Grey ankle socks, Black Shoes
Plain White Shirt with School Tie   School Jumper/ cardigan with School Logo, Royal Blue Tartan Pinafore /Skirt ,Grey knee socks or grey tights, Black Shoes.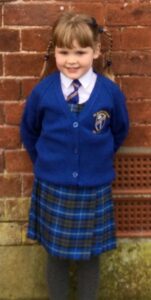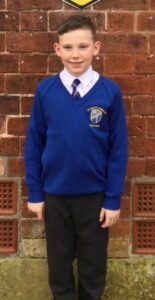 Summer (Worn upon return from Easter until July)
Short sleeved shirt with tie. Jumper or cardigan with School Logo. Tailored grey shorts. Grey ankle socks. Black school shoes
Light blue checked dress ***. Cardigan or jumper with School Logo White ankle socks. Black school shoes.
***Only summer dresses are permitted and not checked shorts or skorts. Summer dresses should be fully checked and not contain white collars/ inserts. Thank you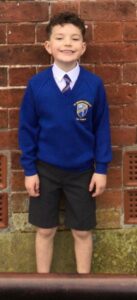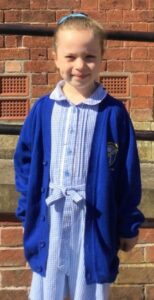 PE Kit
White and Navy PE tee shirt with School Logo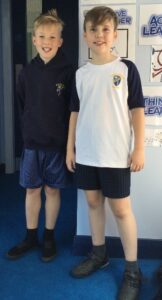 Navy blue shorts
Black PE pumps
PE Bag (with child's name)
Navy School Hoody (Optional)
For cooler months pupils may wear Navy jogging bottoms (Plain no branding / logos)
Earrings must be removed for PE lessons.
**Check out our NEW uniform here.