Uniform
Voucher – Back to school Offer 2 offers FINAL – Uniform & Leisurewear – Kirkham
Uniform – Our new school uniform is statutory from September 2022
Winter (Worn from September through to Easter)
Plain White Shirt with School Tie, School Jumper with School Logo, Tailored Grey Trousers , Grey ankle socks, Black Shoes
Plain White Shirt with School Tie   School Jumper/ cardigan with School Logo, Royal Blue Tartan Pinafore /Skirt ,Grey knee socks or grey tights, Black Shoes.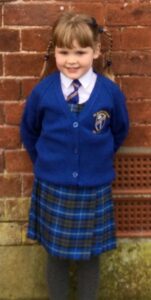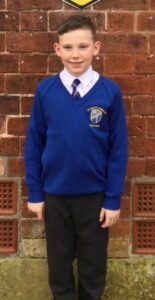 Summer (Worn upon return from Easter until July)
Short sleeved shirt with tie. Jumper or cardigan with School Logo. Tailored grey shorts. Grey ankle socks. Black school shoes
Light blue checked dress ***. Cardigan or jumper with School Logo White ankle socks. Black school shoes.
***Only summer dresses are permitted and not checked shorts or skorts. Summer dresses should be fully checked and not contain white collars/ inserts. Thank you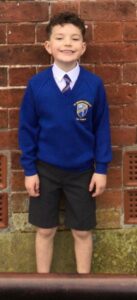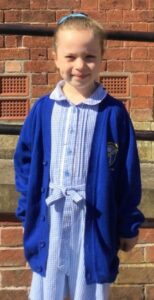 PE Kit
Navy PE tee shirt with School Logo
Navy blue shorts
Black PE pumps
PE Bag (with child's name)
Navy School Hoody (Optional)
For cooler months pupils may wear Navy jogging bottoms (Plain no branding / logos)
Earrings must be removed for PE lessons.
**Check out our NEW uniform here.
Forest School Kit
Navy School hoody-

with school logo. (plain no branding/logos). 

 

Trousers-

Navy joggers/ leggings (plain no branding/logos) for the cooler months, navy school shorts may be worn in the summer.

 

Wellies-

which need to be clearly labelled and kept in school.

 

Trainers-

to arrive in school for the day (we may wear trainers in the dry warmer months) sandals and snow boots are not suitable. Warm socks and a spare pair. We ask that the children bring their wellies in a separate bag.

 

Warm layer in winter

– vests, socks, thermals it is much better to have several thinner layers than one thick layer.

 

 

Tops –

light layers for warmth, children to wear navy t-shirt only NO logos or other badges.

 

Good quality waterproof coat (with a hood) and trousers or all in one puddle suit–

the children will be out for up to 3 hours. So keeping warm and dry is a way to have more fun. 

 

Warm hat and gloves –

in winter the children will need a pair of gloves and a spare pair in case they get wet. 

 

Sunhat and Sun cream–

(separate forms to be obtained from the office)

when it is sunny we have some coverage from the trees and canopy however, the greenway is very open. 

 
Please remember to label ALL clothing it is your childs responsibility for their own belongings. 
FOR HEALTH AND SAFTEY REASONS CHILDREN WILL NOT BE ALLOWED TO TAKE PART UNLESS IN FULL KIT AND HAVE ALL THEIR OWN ITEMS.