Class 1
Class One
Welcome to Class One!
In our class we have Reception and Year 1 children. Our teachers are Miss Bennett, Mrs Jennings (1 day- Forest School), and our full-time teaching assistant, Miss Harrison.
Within our Early Years classroom we strive to develop inquisitive learners who are not afraid to try new things, persevere with a challenge and feel proud of all their accomplishments.
Take a look around our exciting and busy learning environment…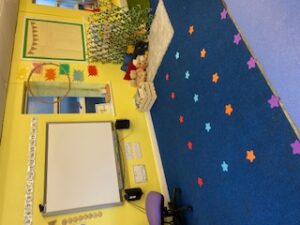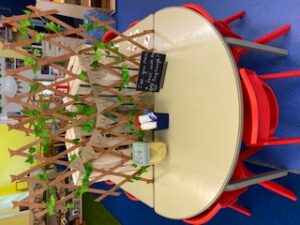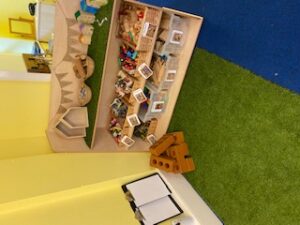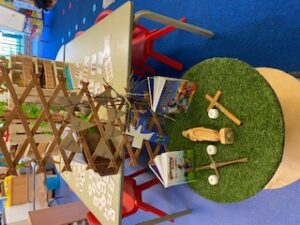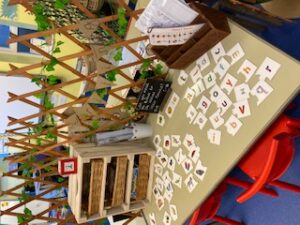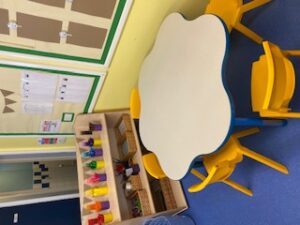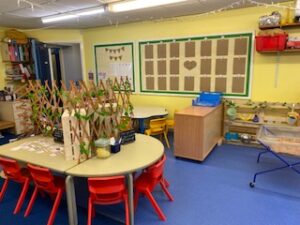 Our class scripture quote:
'God saw all that he had made, and it was very good.'
Genesis 1:31
Check out our Chick Hatching here!
Important information
Reading books
It is recommended that you read with your child for 10 minutes, 5 times per week. Reading books are changed every Monday and Thursday. If your child has not read at home, their book will not be changed. If your child has a picture book to look at with you, please talk about the pictures with your child and ask them some questions about what is happening in the pictures. Please ensure all books kept in your child's blue book bag to avoid reading books becoming lost.
Wizard words
Please follow the links below to find a list of our wizard words. Reception children: Please help your child to read the red wizard words by practising them regularly. Y1 children to practise reading and spelling the wizard words.
When we think your child is confident of the words, we will move them on to the next set (blue wizard words.) We check them in class on a weekly basis.
Homework
Each child will receive a red home learning book, where you will find a 'learning letter' explaining the homework that week. Homework is sent home every Friday, and should be returned completed on Monday.
PE
Class One have PE every Tuesday and Friday. PE bags should stay in school and will be sent home every half term to be cleaned and returned.
Forest School
Every Thursday, Class One will have Forest School with Mrs Jennings. We ask that your child comes dressed ready, wearing a school polo shirt, leggings or joggers and a school hoodie. To be kept in school, your child should have a bag with wellies and water proof pants and jacket.
Drinks and snacks
Children in Class One can get a piece of fruit and a carton of milk at play time each day. However you may wish to provide your child with another healthy snack for playtime, no crisps or chocolate please. Your child can also bring a drink of water to school. Water bottles are kept in the classroom so that the children can get a drink whenever they need one.
SeeSaw
We use SeeSaw to update our families on our recent learning. We aim to post photos at least once per week. We strongly encourage our families to share photos from home with us using the app, so that your child can proudly share these during 'Show and Tell'.
If you have any questions, please do not hesitate to contact any of the class one team.
bennett@lea-st-marys.lancs.sch.uk
harrison@lea-st-marys.lancs.sch.uk
jennings@lea-st-marys.lancs.sch.uk
Autumn 1- 'All About Me' and 'Traditional Tales'
Class 1 settled into school beautifully, exploring their new learning environment and building relationships with staff and peers. The children have been captivated by the story of 'Little Red Riding Hood' by retelling the story using props and creating 'wanted' posters for the Big Bad Wolf. We have also enjoyed the story 'The Three Little Pigs' where the children have built their own houses, ensuring they were 'extra strong' to avoid the Big Bad Wolf blowing them down.
Autumn 2- 'Celebrations'
This half term we have learnt all about Remembrance Day, understanding why we take time to remember those who have died in the war. We then looked at the Hindu celebration of Diwali, creating our own Rangoli patterns and Diya lamps. We have then learnt about Guy Fawkes and Bonfire Night, retelling the story of the Gun Powder Plot and creating our own firework pictures.  We then finished the term with our fantastic Nativity performance, Barmy Bethlehem!
Spring 1- 'Transport'
This half term we have been learning all about the different modes of transport and the use of maps. Class 1 enjoyed exploring the school grounds using a map, carefully checking the map to ensure we followed the correct path.  We have also studied the world map, finding the UK and Australia, discussing how they are similar and different to one another. This half term we have also learnt about how to keep our bodies fit and healthy. We had a special visit from the tooth fairy, who told us all about how to keep our teeth clean and healthy! To end the half term, we designed and created our own modes of transport using junk modelling materials.
Spring 2- 'Minibeasts'
This half term we have been learning all about minibeasts, using the text 'Superworm'. We have been retelling the story using props in our muddy tuff tray, reciting the key language and repeated refrains. In Forest School, Class 1 went on a minibeast hunt around the field, where they excitedly found a frog amongst other insects! This half term we also took part in World Book Day, where all children showed their love of books through their fabulous costumes.